Choose Us!
Why Mahajan Hospital?
Our Culture of being 'Simply Better':
We are focused on delivering the very best care to each patient through our team of outstanding, patient friendly and ethical physicians and care providers. Mahajan Hospital Care Pathways are protocol driven, reflect global best practices, and ensure that our patients consistently receive quality care. Our "Mahajan Cares" philosophy ensures putting patient interests ahead of our own and delivering care with compassion, empathy and a "human touch".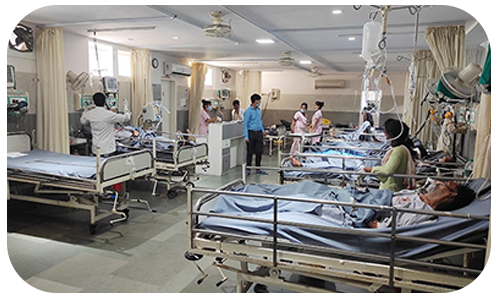 Outstanding Facilities and Services:
Our mission is to deliver world class health care by creating institutes of excellence in integrated medical care, teaching and research. We aspire to create an ethical & safe environment to treat all with respect and dignity.
A Legancy of Seva:
Mahajan Hospital is differentiated through an unmatched culture of uncompromising ethics and seva to others. For Mahajan Hospital, healthcare is not a 'business' but a vehicle to "make a difference" and create a better world.
Value & Relationship:
Mahajan Hospital is unique in today's corporatized healthcare environment. The values embedded in our DNA ensure that everyone can count on the highest standards of values and a long-term orientation towards relationships.
Affordable Excellence:
We understand that modern healthcare is expensive and are focused on being more affordable to our consumers than other hospitals of equivalent quality.