From Mahajan Hospital
Director's Message
I know that the very thought of going to a hospital can be unpleasant and traumatic. We at Mahajan Hospital understand you and your needs and have taken every step to lessen your anxiety. We want Mahajan Hospital to be so well managed that it should always be able to provide quality health services in a caring manner, regardless of ability to pay. At the same time, we should be profitable to allow us to re-invest these profits directly into the Hospital for state-of-the-art equipment and technology that benefit our community and be a source of hope for our patients and their families.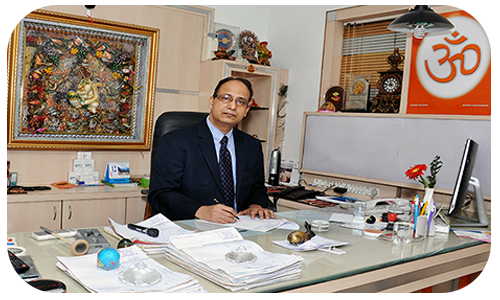 We are committed to follow the highest standards of ethical conduct and to provide honest and affordable healthcare services. Realizing our social obligations, we are devoted to provide free/ subsidized treatment to people living below poverty line. We shall be committed to excellence in all areas of our organization by anticipating and exceeding the expectations of those we serve: our patients and their families, physicians, employees, volunteers and other partners.
We will continue to support our dedicated staff and premier physicians, as they care for our patients in this challenging environment. Whatever the future holds, I have every confidence that Mahajan Hospital will have all of the resources and emerging technology in place to treat our community with care, expertise and kindness.
We have a team of highly qualified and experienced doctors, paramedical staff and other professionals to run various departments of the hospital. Each employee is committed to making your visit a positive experience and providing the highest quality health care.
We aim to be the leading healthcare provider in Central India and to provide the best in patient care.
DR. R.K MAHAJAN
M.S., MCh. (Neurosurgery)
Sr. Neurosurgeon